In this article we will see how to properly clean an exterior wall or facade with a high-pressure cleaner: the techniques, the equipment, and the products: we tell you everything.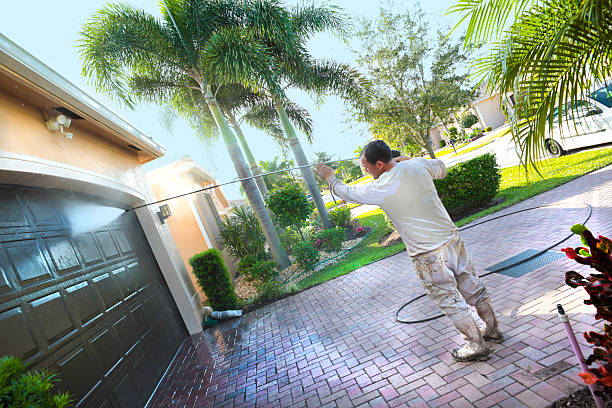 The wear and tear of time, external pollutants, and bad weather leave, during their passage, black or green traces on the facade of the houses. Unattractive, these accumulated attacks can have a negative impact on the integrity of the building in the more or less long term.
It is therefore essential to remove mold, moss, or other dirt from the exterior walls of homes.
A pressure washer is the best tool for this task. Easy to use. This professional cleaning equipment ensures optimal and fast efficiency.
Questions to ask: 
 What are the differences between a high-pressure cleaner and a low-pressure cleaner?
 Which pressure washer to choose?
 Is it suitable for any type of facade?
 What is the best way to professionally clean a house's facade?
What is the pressure washer used for?
A pressure washer is used to propel water at high pressure over a surface in order to clean it thoroughly and remove the most stubborn dirt. The temperature of the water used varies depending on whether it is a cold or hot water pressure washer.
We recommend it to carry out a major cleaning of the facade once a year when spring arrives.
This avoids thermal shock that could damage the coating, especially if you use hot water high-pressure cleaner.
What type of facade to clean with high pressure?
A concrete facade, a brick or stone facade? The hardness of these different materials perfectly supports cleaning with a professional high-pressure cleaner. But this material is also compatible with a wooden or plaster facade, which is more fragile.
But it is essential to inspect the coating of the walls to be treated before using the NHP. The condition of the facade must be good, in order to avoid any infiltration of water inside.
In the presence of small cracks, take care to protect them from splashing water. Better yet, repair the coating a few days before starting the high-pressure cleaning.
Also, preserve all the fragile accessories present on the exterior walls, such as shutters, blinds, windows, or exterior lights.
That said, apart from the lighting, you can also clean these elements with high pressure, taking care to reduce the pressure of the jet or to observe enough distance in order to reduce the power of the water.
What to remember:
You can clean many facades with a pressure cleaner (concrete, brick, plaster, wood)
 Adjust the pressure of the device to a maximum level of 120 bars for fragile surfaces
Test beforehand on a small surface
Remember, in case of cracks to repair your wall before any cleaning
High-pressure facade cleaning: instructions for use
As work with a high-pressure cleaner takes place outdoors, we recommend it to take the weather into account beforehand. We have specified above; it is better not to use a hot water cleaner in winter because the temperatures are low.
This could cause thermal shock damaging the structure. Also, avoid cleaning the facade with high pressure in wet or windy weather.
Finally, before starting work, equip yourself!
Protective equipment needed:
a pair of gloves

waterproof professional safety shoes

protective glasses

a mask when using irritating products
You can then follow these steps:
Fill the cleaner tank or foam cannon with a suitable cleaner.

Then apply it by spraying it on the facade of the house.

Follow the manufacturer's instructions regarding how long to let the product work.

Then brush, insisting on the dirty areas.

Then rinse, starting from the top of the wall, while performing back-and-forth movements on both sides. Respect a distance of about fifty centimeters between the pressure washer nozzle and the cleaned surface, in order to preserve the coating.

To effectively clean more delicate surfaces, use a rotating hydro brush instead, adjusting the pressure of the high-pressure cleaner to a maximum of 80 bars.

Finally, rinse each piece of equipment used and let it dry before putting it away.
Warning:
To avoid damaging your facade, do not use a very high-pressure cleaner. Do not place your lance less than 50 cm from the wall to be treated.
An electric or thermal high-pressure cleaner?
First, you have the choice of power mode between an electric pressure washer or a thermal pressure washer. The latter offers more power and has greater flow and pressure than electric pressure washer models.
Usable without the constraint of connecting an electric wire, the thermal pressure washer also has a greater range of action. This equipment can operate with cold water and hot water, its cleaning power is reinforced and adaptable to many facades.
For professional cleaning very dirty walls, covered with soot from the chimney, covered with moss, or encrusted with mould, it is the most judicious choice for professional use.
Conversely, to professionally clean the front walls of your home, the electric cleaner is perfect. Its compact dimensions and lightweight allowing it to be used easily for very satisfactory efficiency on facades that are maintained annually.
What flow and what power to clean exterior walls?
Pressure washers deliver a water flow, pressure, and power that can vary from one model to another. For the effective cleaning of a facade, the most suitable references must propel a flow rate of 500 to 600 l/h.
In addition, a power of 3000 watts is sufficient.
Finally, make sure that the maximum pressure exceeds 140 bar. For plaster or wooden facade, less pressure is recommended, in order to preserve the integrity of these more fragile materials.
What accessories are needed for facade cleaning using a pressure washer?
There is a whole series of accessories used to complete the pressure washer, depending on the layout of the premises.
This is first of all the case of a very long hose which makes it possible to respond effectively to a very wide facade. Their size can reach 20 m and withstand a pressure of 200 bar with no problem.
If the exterior walls are high, equip yourself with a telescopic lance that allows you to reach nooks and crannies effortlessly, up to 6 m in height.
Here again, the lance models for cleaners are diverse and varied: double lance, foam lance, brush broom, sandblasting lance, steam lance, straight lance, angled lance, etc. There are all kinds.
Besides the hose and the high-pressure lance, it is possible to accessorize the NHP with one or other of the following elements:
A propellant gun to regulate the flow during cleaning.

A foam cannon is to be added to the lance for the Pressure washer, in order to apply the doses of detergent product to the right places.

A rotating brush with soft bristles, to be used for deep cleaning of more fragile surfaces, such as blinds, shutters, windows, bay windows, or door frames.

A

straight jet nozzle

or a

rotating nozzle

to be attached to the end of the lance to optimize cleaning in areas with difficult access.

A

harness

to reduce physical fatigue when cleaning high wall surfaces.

Finally, once the facade has been cleaned, remember to apply a water-repellent

 treatment

to the clean surfaces. This will enhance its resistance to moisture.