Discover our 8 tips for cleaning cement tiles like a pro. Thanks to natural, simple, and effective methods, you will know how to maintain them optimally and you will quickly find resplendent tiles.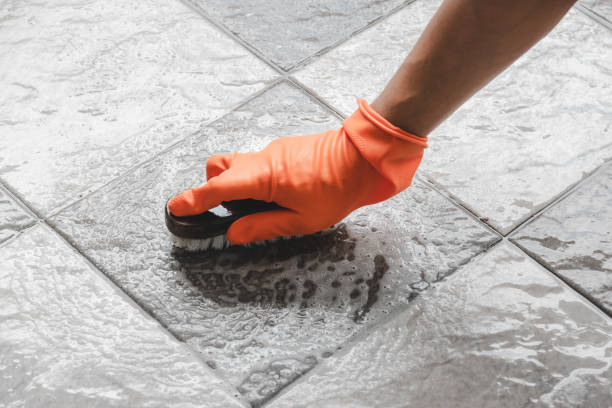 Colored or sober, cement tiles have become a must in interior and exterior decoration. They can be applied equally to floors and walls and even displayed on a covered terrace to better appreciate their craftsmanship, their weathered appearance, and their authentic vintage patterns.
But these trendy tiles are prone to clogging, grease splashes, and dirt. Also, to preserve their cachet and their longevity, they should be maintained regularly.
Cement tiles: gentle cleaning
Also called a hydraulic tile, cement tile is a very wear-resistant material that is ideal for spaces subject to high traffic frequencies. But it is also a coating that has a very porous and fragile appearance.
Made by the piece and without firing using a hydraulic press, they made it from natural materials such as colored cement, sand, and marble powder.
So it gains this incomparable patina.
This handmade tile is easy to maintain but it should not be taken care of with any product, in particular, because of the calcareous material that composes it. The first thing to know is that it is sensitive to acidic products and does not support aggressive detergents, which may damage its colors and patterns.
In addition, the maintenance of cement tiles will not be the same depending on the space where they are laid. Thus, cement tiles installed in a humid room require adequate maintenance to prevent the appearance of rapid wear or to avoid the encrustation of indelible stains.
Clean cement tiles with natural products
Regular maintenance of cement tiles is best done with a greasy soap mixed with hot water. The professional cleaning steps are identical regardless of the natural product used.
Make sure the surface is

dust-free

.

Make soapy water

by mixing the product of your choice with hot water; the solution must be homogeneous.

Apply the liquid to all the surfaces to

be cleaned using a wrung-out, not soggy mop if we lay the tiles on the floor (or microfiber mop). Use a slightly dampened sponge for high surfaces.

Rinse generously with clean water

with plenty of water after application to avoid traces of residue which could clog the tiles.

Wipe off and let dry completely.
Clean cement with liquid black soap
We recommend black soap to clean, degreaser, detach and shine. This ecological and highly concentrated product is a favorite natural cleaner for deep cleaning cement tiles and removing grease stains daily. Black soap also gives the cement tile a patina and enhances the colors. It takes 2 tablespoons of soap for 5 liters of water.
Note If you have applied a tiling wax to get a satiny and luminous patina on the surface of your cement tiles, do not use black soap which could clog the pores of the tile.
Clean the cement with Marseille soap
Dilute 1 cap of liquid Marseille soap or 2 tablespoons of Marseille soap shavings in 100 ml of hot water.
Cleaning cement with soda crystals
Pour a tablespoon of soda crystals into 2 liters of hot water.
Clean cement with baking soda
Provide 6 tablespoons of baking soda for 1 liter of hot water. Baking soda also has a slightly abrasive effect that polishes the surface and restores the shine of the original colors if your cement tiles are dull.
Clean cement with claystone
Soak a sponge in hot water and a little claystone, gently rub the cement tiles then rinse thoroughly.
Removing a stain from cement tiles
The cement tile literally drinks the stains. If your tiles are stained:
Rub the stain gently and in a circular fashion with a damp abrasive sponge coated with a little Marseille soap

Leave on for a few minutes before blotting

Rinse thoroughly with clear water and dry

Repeat the operation until complete disappearance

Polish with a soft cloth
Note: In the event of spillage or accidental penetration (grease, wine, coffee or any other liquid), take action as quickly as possible to avoid staining the tile deeply.
Get rid of a stubborn stain on cement tiles
If the stain persists, you can manually sand the tile.
Gently scrape using 600 grit wet sandpaper or a soft scraping sponge and a little water.

Thoroughly rinse away residues caused by abrasion.
Note: If you have applied protection, then it will need to be renewed directly.
Treating Mold Stains on Cement Tiles
Have you noticed that mold has appeared on your cement tiles? Act without delay. Using sodium phosphate will find a clean and healthy cement tile.
Dilute 1/3 cup of sodium phosphate in 1 bucket of water

Vacuum the surface to be treated.

Pour the preparation on a sponge and rub

Leave on for 15 minutes

Pass a sponge to remove the product, these compact scrubber-dryers work with two universal brushes (many floors), hard bristle brushes (very dirty hard floors), or soft bristle brushes (rugs and carpets).
Professional cleaning of cement tiles: the rules to follow
Friction or abrasion carried the professional cleaning of cement tiles out only.

To improve their resistance and durability, cement tiles must be treated after their installation. Water- and oil-repellent type waterproofer will provide adequate protection by preventing stains from permanently soaking into the tiles and grouting. We must renew the application every 4 to 5 years, or even 2 to 3 years, depending on the level of exposure to aggression.

To make the surface more resistant to traffic and maintain the natural shine of your tiles, apply a floor wax for cement tiles which protects against dirt by reducing the porosity of the tile and makes cleaning easier.

Sweep the floor and walls daily with a microfiber mop, dust the splashback with a microfiber cloth, and wash them regularly to remove encrusted dirt and debris before they turn into a stain.

We should absolutely avoid certain commercial cleaning products: aggressive detergents such as scouring cream, acid products such as anti-limestone, alkaline products, bleach, and white vinegar.

To make your life easier, you will also find pH-neutral type cleaners on the market that are rinse-free.

Professional floors (shops, bars, restaurants) require specific treatment and maintenance because they are subject to intensive use.