Current legislation requires all restaurants and other hospitality businesses to comply with strict cleaning protocols in their establishments, which ensures the well-being of the client at all times. That is why it is vital to develop a Cleaning Plan. Don't know how to do it? Don't worry, understand with us this example of a restaurant cleaning and disinfection plan, and apply it to your premises.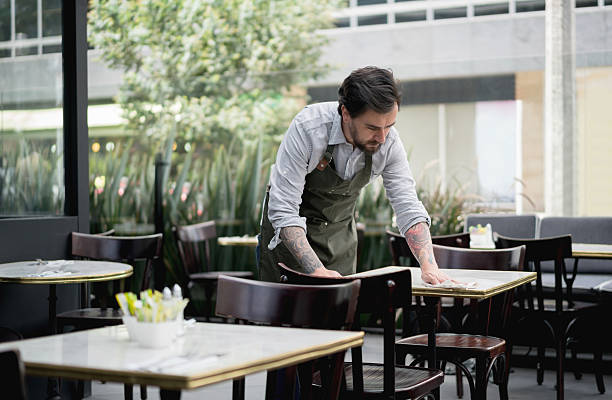 Besides the legislation, and as a fundamental point, the only way to have satisfied, loyal customers who will not only return, but will also become an excellent source of promotion for the business, is to always have an impeccable space. No one wants bad reviews for food, service, let alone cleanliness.
In our example of a cleaning and disinfection plan for a restaurant, we will include all the actions to be carried out, not only in the kitchen space but also in ​​the tables, where the public is served. It is of little value that only one of the two presents optimal cleaning conditions.
Cleaning and disinfection plan for a restaurant
The restaurants have, daily, the visit of dozens of people who use everything from the cutlery to the local toilets. To ensure that all the surfaces and objects that have been in contact with them cannot harm them and can be used the next day by new diners, it is necessary that you apply our example of a restaurant cleaning and disinfection plan to the specific case of your premises. Both seek to regulate and guide the correct preparation, handling, and hygiene of food, equipment, and others related to spaces dedicated to food service.
An example of a cleaning and disinfection plan for a restaurant must comply with a schedule that tells the entire team how the activity will be carried out:
When cleaning is carried out

: there must be an itinerary of the

cleaning times during the day

(at the beginning of the day, during the service, at the end of the service); Likewise, the

times of deepest cleaning

should be determined: once a month, bimonthly, annually.

Disinfection protocols

: includes both how cleaning and disinfection will be carried out, as well as the specific

products

for each area.

Those who carry out the activity

: it is the staff themselves or external and specialized cleaning service will be hired.

Activity Oversight

–You need to determine who can do the overall activity oversight so that they determine what needs to be done and at the end of the process can ensure that everything went according to plan.
Daily cleaning of the restaurant
In the restaurant, cleaning and sanitizing plan example, daily cleaning is a key element. We must carry a cleaning phase-out daily, which is carried out continuously during the day and much more thoroughly at the end. These include:
For the kitchen area

: the correct handling of each food, preparation surfaces, equipment, and preparation materials.

For the service area

: cleaning of counters and tables, disinfection of cutlery, change of table linen.

Of the area

: cleaning of the floor, the common areas, the bathroom services, and the correct disposal of waste.
Beyond this daily cleaning, it will be necessary to schedule a plan (bi-monthly, semi-annually, or annually) for deeper cleanings. One that includes the disinfection of the entire space is to leave the work area in suitable conditions to guarantee the health of the clients and the staff themselves.
An example of a cleaning and disinfection program for a restaurant should be divided into zones and each one of them should be given the treatment so that they remain in condition and continue with the activities.
Cleaning and disinfection of the kitchen area
For this delicate area, we must carry out deep cleaning of various sectors:
Storage areas

: this includes the refrigeration rooms and others where the food is found; making an

evaluation of the same to discard

those that are not in optimal conditions for consumption.

Cleaning of work areas

: both stoves, ovens, extractor fans, and other kitchen utensils.

Remove grease and any other dirt

. This with detergents according to these products, hot water if necessary, or steam.

Kitchen utensils

: avoiding cross-contamination is essential and should be thoroughly cleaned with hot water, soap, and some specialized detergent.

Deep disinfection of the kitchen

floor.
One thing that will be necessary is to divide a restaurant's sanitization program into phases. In this sense, you must carry out a first cleaning phase, then a disinfection process with more specific products, a rising phase, to remove the remains of these detergents, and finally, a drying phase.
This is important as it allows you to combat any type of bacteria or virus proliferation by carrying out an adequate cycle. The final drying process is extremely important because it ensures that there will be no moisture or wet surfaces that could serve as breeding grounds for microorganisms and guarantees that the staff will be safe moving around the facilities.
Cleaning and disinfection of the service area or dining room
This very busy area needs deep cleaning in relation to all your work materials :
Disinfection of tables and service bars.

Disinfection of glasses, plates, fountains, and cutlery with specialized detergents. Proper drying and storage of these pieces are also essential.

Carry out optimal cleaning service for all table linen, removing stains and that everything is in good condition for use. Let's remember that this is a constantly rotating material that can wear out and that it will need continuous replacement.

Cleaning glass and mirrors, removing stains and dust.

Washing and disinfection of the dining room floor, followed by its correct drying process so that we always keep it in the best and safest conditions for the transit of staff and customers.
Cleaning and disinfection of the bar area
The cleaning and disinfection of a restaurant must also cover areas such as the bar. For this space, it is necessary:
Review the refrigerators and storage areas, eliminating everything that is not in a serving condition. 

Cleaning of all surfaces, with specific products for this.

Disinfection of utensils and work equipment. Do not forget the correct drying and storage of them.

Deep cleaning of the floor that including the bar area.
Exterior cleaning and disinfection
It is necessary to clean the entire exterior area of ​​the restaurant, either with hot water or steam in the floor area. This is also for the parking areas if they have one. A good review of the crystals or windows; Besides a review of gardening, if you have one.
Cleaning and disinfection protocols after Covid-19
If restaurants have also had to assume something in terms of cleaning and disinfection protocols, we relate it to Covid-19. Even today, when it has been overcome and a new normal has returned, it is necessary to continue with the security measures that have been implemented to date.
Do not forget that you are working with food and it needs processing. Served in the most hygienic way possible. Using masks when they are handled and served is a health measure that is always recommended.
Besides this, offering customers products for hand disinfection when entering and leaving the premises must also be a measure to implement and maintain.  Offering information through posters regarding hygiene and health safety measures is part of the protocol.
The cleaning and disinfection of a restaurant in the hands of a specialist
If you really want to do a real cleaning and disinfection of a restaurant. The best alternative is to hire a specialized cleaning service company such as SCS Group
Among the benefits that a restaurant and any other type of premises can get by hiring a specialized cleaning service, such as the SCS Group Cleaning Solution Service:
Specialized supervision throughout the process and subsequent control.

Use of equipment and material according to each area and cleaning need

Elimination of odors in all work areas

Improve the development of the activity with a timely, fast and effective process.

Achieve areas that comply with the health protocols currently established under the standards

Get that image of a clean restaurant that every local wants to show to their customers.
The prestige and trust of a place to begin with its cleanliness will always be the most positive thing for the staff, the clients, and the success of your business.
We hope that our cleaning and disinfection plan for a restaurant has been useful to you. If you have any type of doubt when trying to move it to your premises, contact us. At SCS Group Cleaning Solution, we will be happy to help you with everything you need.