This article takes you through our top tips for professionally cleaning a concrete floor and getting the results you want with an industrial cleaner.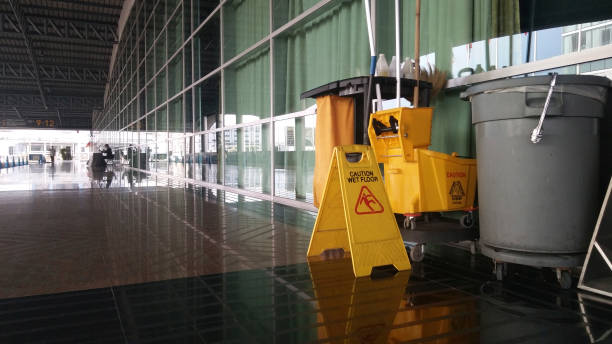 Concrete is a modern coating that has many advantages. Solid and modern, it also offers great possibilities of development in professional premises as in all rooms of the house. But it is essential to maintain it regularly to preserve its original aesthetics and increase its life expectancy. How to perform a good wash and effectively remove stains? How to facilitate routine maintenance? What practices We should avoid preserving the finish of your concrete floor?
Concrete is an elegant and authentic material. We appreciate it in the raw concrete version for its very cold look, but it can also be adorned with beautiful colors, take on soft and natural shades and be warm and sophisticated to create unique atmospheres. However, to prevent this permeable material from decomposing after a while, you must protect it and use suitable detergents to clean it without damaging it.
The components of a concrete
From a technical point of view, concrete is obtained by mixing aggregates, cement, sand, various additives, and water. As it solidifies, the resulting paste forms what we know as raw concrete, a material highly coveted for its resistance. It must be protected by a specific coating to optimize its solidity and longevity: smooth concrete, waxed concrete, stamped concrete, etc.
How to make maintaining a professional concrete floor easier
Concrete is a porous and grainy material that is more sensitive than it seems. It can disintegrate over time and lose its aesthetic and decorative appearance. It must imperatively receive protection to be reliable and durable. These are mainly protections, such as wax, varnish, filler, etc.
How do protective treatments for raw concrete work?
We intend protective treatments for raw concrete to create a wear layer that will effectively absorb all shocks, scratches, or even the natural abrasion of the ground because of repeated passages. They are, therefore, the guarantors of the durability of your floor.
Waxes for a concrete floor
They act by impregnation and create a long-lasting protection against fouling. We should preferably reserve them for places with low traffic or places free of humidity.
Vanishes for a concrete floor
They form a transparent and waterproof film and are recommended for places with heavy traffic or exposed to splashes of water (toilets, bathroom, kitchen).
The filler for a concrete floor
Applied before wax or varnish, the filler limits moisture absorption and prevents deep clogging.
Protective treatments also make it easier to maintain your concrete floor daily. Thanks to their water-repellent and oil-repellent action, wax and varnish treatments seal the pores of the concrete, protect it against water and stains and prevent the penetration of oils, greases, and all forms of dirt. Available in matte, satin, and shiny tones, they can offer the result you desire.
Cleaning and washing solutions for concrete floors
It is essential to never forget that, when it was laid, your concrete floor benefited from a specific surface treatment that protects it against dirt and water. Therefore, each time you clean and wash, you must always keep in mind not to damage this protection. This obviously concerns, first, the detergents you use for its maintenance, such as specific products to remove encrusted stains.
Multi-purpose concrete floor cleaner
Daily, a simple wash with a damp mop with a neutral pH multi-purpose cleaner for concrete floors is enough to maintain this type of floor and keep it looking great. Remember to rinse thoroughly with clean water and dry.
Liquid detergent, baking soda, and other natural cleaners for concrete floors
Step 1: Fill a bucket with hot water with your choice of soda crystals, baking soda, liquid detergent, or black soap.
Step 2: Dust the surface and scrub with a brush broom (for example, a road broom head ). For dirtier soil, you can use Saint-Marc detergent. Always respect the manufacturer's dosage.
Step 3: Rinse with clear water after cleaning
Removing stains from a concrete floor
Although very solid, the concrete floor becomes a highly delicate material for removing stains. Cleaning stains on a concrete floor are done with a damp sponge soaked in a little mild detergent. We must pour this detergent into the dirt and rub it. It is possible to use a metal brush, rubbing gently.
How to get rid of greasy stains on a concrete floor?
For greasy stains such as oil, blot the stained area as soon as possible, taking care not to spread the stain. Make a mixture of hot water and baking soda, scouring cream, or washing powder, which is perfect for breaking down oils. Spray the area to be treated and rub gently with a couch grass brush (especially avoid scratching too hard). Rinse carefully. Repeat as necessary until the stains are completely gone.
Really stubborn stain on a concrete floor: what to do?
In the event of a really stubborn stain, you will always be able to remove the protection on the area concerned by using a polishing shampoo. The stain will leave and you can then apply a wax or varnish. However, take advice from a concrete floor professional because you risk not finding an identical patina between the treated area and the rest of the floor.
Cleaning a concrete floor: our advice
Prefer gentle and frequent maintenance, even daily, to a thorough and stripping cleaning.

Dust your concrete floor regularly using a broom, or vacuum cleaner with a hard floor brush or mops.

When washing, make sure to always use a mop or a well-wrung microfiber fringe so as not to saturate the floor with water.

Only use products with a neutral PH.

Never use ammonia or bleach or products based on soda or acids. This could damage your floor and leave traces.

To limit scratches, place protective pads and/or floor protection mats under the feet and wheels of your furniture.

Avoid any abrasive action that could attack the protective layer and scratch the coating: wire brush, too aggressive stripping powder, steel wool, abrasive sponge, etc.

If possible, do not let a stain become embedded; dispose of it when still fresh.

Pass the mono brush with a soft polishing disc; its action will make it possible to standardize the surface and restore shine to your concrete floor.